The information for this transmission came through to me in what I will call a very interdimensional fashion, with many elements coming into my vision but only for short periods of time. I was reassured that they will have continuation by the partials/harmonics at the end of the transmission, which communicated with me in the form of a suspended tone, indicating more to come (namely by a tonic plus a suspended second / roughly an overtone A with a B right above it).
Here's a rundown of the main points I received with the Light Language:
– This is an announcement — with more details to come regarding its full nature
– There's an aspect here of "solving the mystery" of music in terms of its interplay of tones, harmonics and overtones, and the multi-faceted information that is carried in their vibrations (as well as the effects that they can produce)
– Information on the resonance of the mouth as affected by the interplay of teeth, tongue, etc., to influence the spectrum of sound taking form (also think spectrum of Light / As Above, So Below)
– There have been humanoid languages that use a tone and its partials/harmonics as elements for communication. These are more or less on the level of mental language (not conceptual or Light language). I didn't get any real specifics on what they were or what areas/races/beings speak or have spoken them. It feels as though they could have been spoken on Earth at some point in time and that there are races in other parts of the cosmos, possibly even other dimensions, that communicate this way. Some are less corporeally centered and more in touch with their greater spiritual being, which is where I personally believe the tones and harmonics have primary influence. Important to note: These are different from the tonal languages of Earth such as those in Asia that use tone for word inflection.
– Information on connection between both sides of the brain, eventually leading to the same for body (more on this below). The Light Language is speaking to us about this as its main message in the present moment.
I received quite a bit of information on this last point, on which I expand below.
Unified energy polarizes in its flow through the body
I was seeing both sides of the brain reach out, so to speak, to connect with higher/heavenly energies, almost like a large power cord with its two prongs or two wires carrying dual channels for one use.
We have a known reference to associate with this type of connection: the solar disk shown in temple carvings of ancient Egypt. The Light Language was sharing with me that what's shown as the solar disk is a type of focal point or nexus for the Light "machine" that conveys energy into our spiritual bodies. I was receiving information about it as a point of Unity for the polarized energy we experience as the "machine" animates our physicality.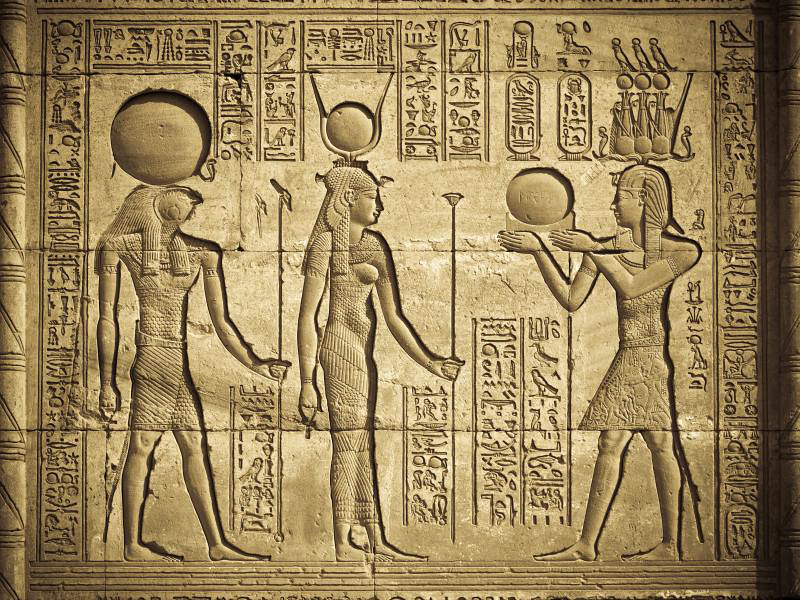 With the polarization that is inherent to the system, this transmission is working with us to strengthen the feminine aspects that have up to this point in our time been more recessive, that have come out less often. I was seeing it as a type of "recessive" Divine feminine (quotes because the term is only approximate), akin to how recessive genes are always there but only express themselves in certain conditions. The allegory is that these conditions are being activated to occur for us not only in the here and now while we experience the Light Language but also that the experience itself allows for them to occur more and more often, bringing eventual balance according to Divine intention. We may set an intention to experience the balance more readily in ourselves, assisting this signal of the Divine by helping anchor it in our collective physical form(s). More on this in the words of guidance in the final paragraph below.
Interestingly, what this does is let us "blink", figuratively speaking. What do I mean by that? Consider when you're working intently at a task or even looking intently at a physical object (whether near to you or far — something as astounding as a beautiful landscape or as ordinary as a screen or piece of paper). There are times in doing so that you'll find you've taken a moment to blink in order to reset your vision and get a better view, even to assist the eyes if they're feeling dry or fatigued. That's what the "blink" is like in this case. It's a moment to pause and restart, to reconnect with focus. It's allowing that to happen in terms of our connection with the unified power of the Divine Eye / the Eye of God, i.e. the eye that creates our experience (the Eye of Ra and its relation with the solar disk would be one way to look at this; there are many ways).
A focal point and unstoppable force from below
I also experienced energy polarization as related to the feet.
It was almost as though both of my feet were going down into water. It was interesting because it felt to be an area in an ocean or very large body of water touching bare rock. I could tell for me personally that this was working with me on grounding, which I seem very often to need — and the greater message to me is that the transmission has information to share with us on water as the big, unstoppable flow of feminine force that is beginning to work its way "up" the body from its point of grounding below.
Similar to the solar disk aspect mentioned earlier, there is a point "beneath" the body where energy is focused and then flows in. The flow is UNIFIED when it enters; it's simply flowing with the dual nature of the body's construction, which is where we experience two aspects (and eventually: two feet, two hands, two eyes, etc.).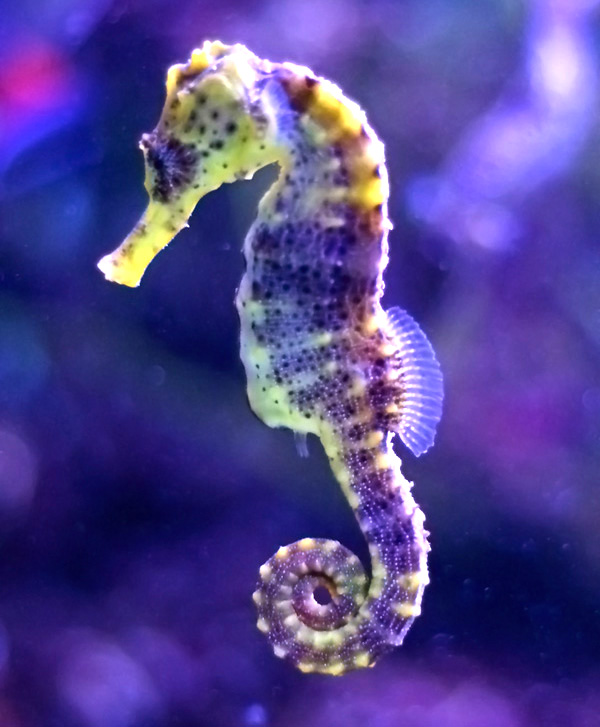 Another interesting point is the fractal nature of how the energy flow works.
It's not as simple as the energy being one thing and a physical or spiritual body being the other thing — no, no! (Lol!) My brain would love for it to be that way, but it's not. I was getting a totem reference to the tail of the seahorse, which felt like a spiraling, fractal nature that is inherent to the energy flow.
Also noteworthy with the totem is the fact that the male seahorse, not the female, is the one who carries the offspring during reproduction. It's a beautiful example of balance in nature through the masculine of this species supporting the feminine.
Words of guidance
I received these words of guidance with the transmission — they feel like they're from my Higher Self but on a broader, more collective scale:
"Check down from time to time, where you see the many facets of your own evolution. They come in, they move through you, always reminding you where you came from, always reminding you of the flow that lives and breathes and moves through you at each moment. Many times it feels blocked, as though it no [longer] allows what you once received from it. But that is only perception, that is only perspective. Doing, being, existing just as you are in this moment with these words, with these frequencies, allows that perspective to immediately shift. Repetition allows encodement of what you have shifted in the moment. Soon the natural flow revives and takes its course with confidence. Love each moment that you feel this change. Appreciate the moment. This will bring you more moments, eventually a flow whose interruption you no longer perceive."