Light Language Keynote #26
As I sat to channel the transmission, I began receiving information almost right away.
It began with the presence of a huge multitude of beings, one of which was Jesus (Jeshua or another name if it resonates with you better), and it was as though I saw him as an albino or someone with much lighter hair and skin than usual. This has nothing to do with race but relates instead to Source Light shining more brightly through us as it transforms our physical/spiritual vessel. They then told me that the transmission is working with us on being lighter, on "lighten-ing" us. This can be taken in a literal sense as in our bodies becoming lighter (i.e. having less density), as well as in a less literal sense relating to our DNA and the Light from Source that we're able to receive, process and radiate. It's good for us, this process of becoming lighter through engaging with the Light Language.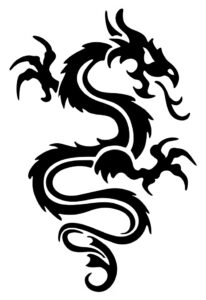 Jesus held a big, long scroll and let it unravel vertically. It was older/official looking and had writing and characters on it (they weren't specific enough that I could perceive or see them clearly). What we're being gifted with through the Light Language is reputable and has an established function, like a code or law (and no need to think of law in this setting as something that bars or restricts; think of it more like education or structure).
From here, I began to see dragon imagery, as if someone had adorned a document or page with a drawing of a dragon as a decorative element or border. Abstract. Long and flowing downward, like the flourishes used around the pages of old-fashioned books.
The scroll and the dragon are interconnected. These frequencies are codes (= law / characters / sets of symbols) drawing on innate personal power to effect transformation throughout our being.
Specifically, the dragon totem…
Encompasses all four earth elements (the whole being — earth, fire, water, and air/ether)
Thus can take any form (shape-shifting, transformation)
Is fierce (think of this in a positive sense)
Symbolizes primordial power
In his Animal Speak, Ted Andrews describes dragons as bringing "swift change and transmutation". He says that they come to show us a new path and assist us in our transformation process to a more elevated plane.
There's also a growth element in the transmission: a sense of preparation, to take on our mission, the "job" or mission that we incarnated for; the transition from the Pisces age. I saw the tips of new crystals forming, along with a fish element. We're guarded and protected as we do this, and we also have our own strength (like a knight or centurion that commands; dragon element as mentioned). We have force and protection as we make this transition. The crystal aspects of the body are now coming online, and we are fortified in fulfilling our mission and purpose, as we let our life force "work its way" into those crystals — as we start allowing our being to become part of those.
We're being guided. Jesus says it's like how one guides a needle through a particular place in fabric or material, or through an element like a button hole, grommet, etc. The needle has its point that can be guided in particular direction — it can be guided specifically. We're able do this for our own beings as we take action directed by our Higher Self.
There's also a reference to the swan segment from an earlier Keynote transmission, a cleansing aspect for the pituitary activation that it helps in facilitating. If you haven't yet experienced that transmission, I invite and encourage you to do so in conjunction with today's new Keynote. The order that you listen doesn't matter; simply allow yourself to experience both transmissions as part of your journey, at the time and in the way that feels most appropriate to you.